The cajon is a popular instrument in flamenco and cuban music. It´s made completely of wood, sometimes with a string in the inside to create a snare sound. In pop music it´s often used to emulate a drumset. Check out the online lesson to get started.
http://www.youtube.com/watch?v=dpReSnkGrTUU
the cajon video is part of David's instructional DVD for the Cajon.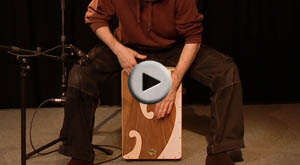 watch a comparison of different cajon models